Sabtang Island, Batanes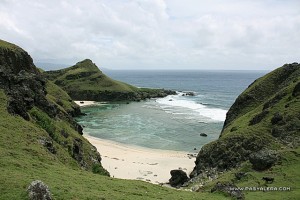 On our third day in Batanes, we woke up early and got ready for our Sabtang island tour. Sabtang is an island municipality across Batan and is a 45-minute falowa (banca without outriggers) ride away from the port of Ivana. In 1994, Sabtang has been chosen by the Philippine Department of Tourism as one of the 12 best destinations in the country.
Another couple, Elsie and Mark, whom we met at the airport and also stayed in Batanes Resort, have decided to join us on our trip. Nice. (This means we can save a few bucks on the island tour.) We left the resort at around 6.15 a.m. then took a tricycle and headed to the port of Ivana. As we arrived, we found out that the falowa was ready to leave and was just waiting for us. We hurriedly jumped inside the boat, wore our life vests and headed to Sabtang island.