I have always wanted to try surfing but never really had the chance to do so until our team has finally decided to have our summer vacation in Baler, Aurora last April 2009. This was indeed one of the most superb travel experiences I've ever had and might also be the last trip that I'll share with my present office colleagues.
Baler, the capital municipality of Aurora Province, is situated in the Eastern Central Luzon facing the Pacific Ocean. It is approximately 230 kilometers from Manila and can be reached by traveling the roads (via Pantabangan or via Bongabon) that twist through the Sierra Madre mountain range, where maybe the only remaining lowland virgin forest, as well as the largest areas of upland virgin forest, in the country is located.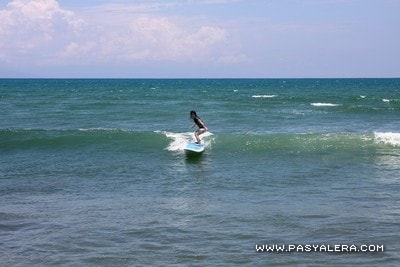 The town is also the birthplace of Philippine surfing – thanks to the production crew of Francis Ford Coppola's 1979 cult classic "Apocalypse Now" who left their surfboards, which were later used by the locals. It is famous for its numerous surfing points like Sabang Beach (best for beginners,) Cemento Beach (for experienced surfers,) and the famous Charlie's Point (the setting of the surf scene in "Apocalypse Now.")
After an almost 8-hour ride from Makati, our group finally arrived in Baler, Aurora at around 8.00 am. We then checked in at Bay's Inn Resort, ate our breakfast, rested for a few minutes and finally went off to begin our great surfing experience.
Our surfing lessons were provided by top surf instructors from Mahdox Surf School and Surf Shop, the first registered surf school and surf shop in Baler which is owned by one of the country's top-ranking surfers and an 11-time Men and Junior's Event Champion in surfing, Engr. Rommel "Okoy" Rojo. The instructors, aside from being excellent surfers, provide personalized one-on-one coaching and are very also courteous and friendly.
To begin with, we were first taught of the basics of surfing – the different parts of the surf board, proper positioning, standing, balancing and popping up techniques. Right after the quick orientation, we all headed off to the beach for the real action and began our surfing session.
After several tries, most of us managed to stand up on our boards without falling. We were able to ride the waves as far as we can go – one of the best feelings ever! Yes, it was very exhausting, yet it is truly one of the most thrilling experience ever.
On a side trip, we also visited the following places in Baler – Cunayan Falls, Baler Church, Quezon Park, Museo de Baler and the Pasalubong Center.
For those of you who would also like to visit Baler, here are some information about the packages of Istokewa Surf Tours:
All overnight packages of Istokewa Surf Tours are scheduled on a weekend and depend on the weather and wave forecasts. Packages for long weekends and weekdays can also be arranged as long as the organizer is available. Here is the usual itinerary but still may be subject to change:
| | |
| --- | --- |
| TIME | ACTIVITY |
| Friday | |
| 11.00 pm | Assembly and Meet up |
| 12.00 mn | ETD Manila |
| 3.00 am | Stop Over at Cabanatuan |
| Saturday | |
| 6.00 – 7.00 am | ETA Baler; Breakfast (Check in if rooms are already available) |
| 9.00 am | Surfing Lessons and Beach Time |
| 11.00 am | Lunch and Rest |
| 12.00 nn | Check in |
| 2.00 pm | Surfing Lessons and Beach Time |
| 7.00 pm | Dinner |
| Sunday | |
| 8.00 am | Breakfast |
| 9.00 am | Surfing Lessons and Beach Time |
| 11.00 am | Lunch and Rest |
| 12.00 nn | Check Out |
| 12.30 pm | Baler Tour: Baler Church, Quezon Park, Museo de Baler and Pasalubong Center |
| 2.30 pm | ETD Baler |
| 6.00 – 7.00 pm | Dinner at Cabanatuan |
| 9.00 – 10.00 pm | ETA Manila |
Package Rates
Php 3,000 per person (complete package)
Php 2,650 per person (if with only 1 hour of surfing lessons)
Php 2,300 per person (if without surfing lessons)
Package Inclusions
Private Van Transfers (Manila – Baler – Manila)
Beachfront Lodging (sharing will depend on the number of people in the group and room availability)
2 Set Meals
2 hours of surfing lessons from Mahdox Surf School (Board rental and instructor fee included)
Tour of Baler Church, Quezon Park, Museo de Baler and Pasalubong Center
Booking and Reservation Guidelines
If the group is less than 9 persons, they will try to find other people to complete the number so as to push through with the trip
Half of the payment is to be deposited as down payment (3 weeks before the trip) then the other half is to be paid upon meet up
It is non-refundable but is transferable to other individuals (just kindly inform them at least one week before the trip)
Contact Details
For inquiries and reservations you may contact Istokewa Surf Tours directly at:
Mobile No: (+63 917) 256-2040 and look for Bart Dumlao
E-mail Address: istokewa@yahoo.com
Websites: http://istokewa.multiply.com / Istokewa Surf Tours on Facebook