Davao is well blessed with over 23 dive sites in Samal Island alone and is truly a haven for scuba divers and underwater photographers. So as part of our planned activities in Davao last February 2008, my friends and I decided to go diving in one of the many available dive sites in Samal Island, the Marissa Reef.
Marissa Reef is approximately a 30 to 45-minute boat ride from Sta. Ana Wharf Davao and is situated at the southeast side of Samal Island near the Pearl Farm Beach Resort. It was named after the person who started the underwater photography in the island, Marissa Florendo, who also happened to be the daughter of the discoverer.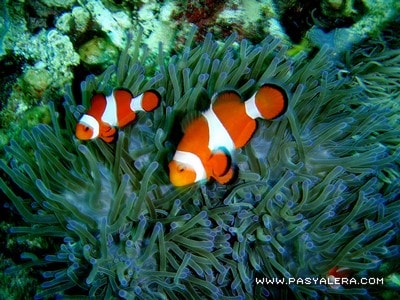 The site is a formation of shallow reefs in three (3) dive spots commonly known as the Marissa 1, 2 and 3. It is very much ideal for beginners since one can enjoy the fascinating view of its rich coral reefs, fishes of different varieties and its rich marine life from 20 to 30 feet above the shoreline. From below, Marissa Reef looks like an underwater mountain which drops to over a hundred feet before one reaches the ocean floor.
When we arrived at Sta. Ana Wharf, our group was led to the office of Wind and Wave Davao (the first and only certified PADI Dive Centre in Southern Philippines) where we were asked to answer a questionnaire concerning our health conditions and then signed a waiver. The souvenir T-shirts were also given to us before we headed to the boat which will take us to the dive spot. And by the way, scuba diver's license is not required in the introductory diving package.
As we reached the dive site, our dive master briefed us, basically about the dive site, dive gears and equipments, diving techniques and diving hand signals. Everyone in our group was so excited but at the same time very nervous and scared. There were nine of (9) of us that time and there were only three (3) dive masters available so we have to dive in three (3) batches.
Getting into the water wasn't really that easy. Some of us even had a hard time going underneath but as we gradually go deeper and deeper, the beautiful and relaxing view at the bottom of the ocean gets more and more stunning. There were beautiful coral formations, different types of fishes, sea urchins, sea grasses and a whole lot more. You will truly enjoy the peaceful and relaxing feeling underneath that you would not even notice that your 45-minute dive is over.
After exploring the depths of the underwater world, we all headed to the wharf and then back to the office. The staff of Wind and Wave Davao had been very generous enough and offered us some coffee to keep us warm. After staying for a few minutes, we all headed back to Davao City and were all thankful to the unbelievable feeling of peace that we just had experienced.
Getting There
From Davao City, take a jeep or bus or cab to Sta. Ana Wharf. The wharf can be found near the Magsaysay Park. From the wharf, a boat will then take you to the dive site.
Fees
Exclusive Dive 101 Package – P1,150.00/pax
Inclusions:
Scuba Diving Gears (Wet suits not included in this package)
Dive Guides
Boat (Big enough to accommodate 20pax, with sink, CR, and View Deck)
Wind and Wave Davao Souvenir T-Shirt
Packed Lunch
Copy of photos of the activity
Contact Details
For inquiries and reservations you may contact Wind and Wave Davao directly at:
Company Mobile No: (+63 905) 330-5045
Landline No: (+63 82) 305-3483 / (+63 82) 300-3483 / (+63 82) 300-7914
E-mail Addresses: info@windandwavedavao.com / tours@windandwavedavao.com / web_monkey@windandwavedavao.com
Website: http://www.windandwavedavao.com/home.php