One of the most thrilling activities available in Davao City, aside from the zip line adventure, is the white water rafting (also called WWR.) According to Wikipedia, "white water rafting is a challenging recreational activity using an inflatable raft to navigate a river or other bodies of water."
I was able to experience Cagayan de Oro's white water rafting adventure last June 2008 so I suggested to my colleagues that we should also include this as part of our planned activities in Davao. And prior to our arrival in Davao City last February 2009, we have already made a reservation with Davao Wildwater Adventure, Inc.
Here is our Davao White Water Rafting Itinerary:
| | |
| --- | --- |
| TIME | ACTIVITY |
| 8.30 am | Assembly at Crocodile Park |
| 9.30 am | Departure |
| 10.30 am | Arrival at Put In Area, Tamugan |
| 11.00 am | Start of Rafting |
| 12.00 nn | Lunch |
| 3.00 pm | Arrival at Take Out Area, Purok 8, Lacson |
| 3.30 pm | Departure for Crocodile Park |
| 4.30 pm | Arrival at Crocodile Park |
We arrived at the Crocodile Park at around 8.30 a.m. just in time for the initial rafting orientation. As we arrived, our life vests and helmets were handed to us then we were asked to sign a waiver. After these, we were all gathered at a certain area in the park where we were asked to watch a pre-taped video on TV which served as the initial orientation. After the orientation, we changed our clothes, kept our belongings in the lockers provided and then we all headed to Davao River.
Upon reaching the put in area in Tamugan, another orientation was given to us. We were taught how to put on our life vests, the basic white water rafting techniques and the different rafting lingos that will be used through out the activity. Since we were ten (10) in our group, we decided to get two rafts – six (6) of us were on the first raft and the other four (4) on the second. The paddles were distributed, the raft assignments were also announced and we were then introduced to our activity guide, Kuya Wong, who is just one of the many well-trained staff of Davao Wildwater Adventure, Inc.
As soon as we got into the water, we secured our feet to the strap on the raft's floor and started to paddle. We were so excited and all of us were screaming out loud as we face the force of the rapids on this adrenaline pumping experience. There were several small rapids that we encountered but there were also a lot of long-stretched ones that will surely knocked you off your rafts. There is also a small cave along the river trail and a small cliff where one can jump from the top of the cliff to the water. The whole rafting adventure lasted for about 3 hours which started from the highlands of Baguio District, down to Calinan and then to the lowlands. There are approximately 30 rapids of varying degrees of difficulty.
We also saw Rhonson Ng, a photographer of Philippine Airlines' (PAL) superior in-flight magazine – Mabuhay, during our Davao white water rafting adventure. I think he was with another group of tourists who hired him as their tour guide for their Davao trip. (I never knew who he was until I stumbled upon his photos and his shots on the Internet. I also remember sending him an e-mail before but was unfortunate enough to get any reply from him.)
All in all, our experience with the 13-kilometer river and the 30 rapids was a whole lot of fun. We're also thankful to our guide, Kuya Wong, for being so professional and dedicated to his work. He is such a great guide and we will surely treasure the great rafting experience we shared with him. Helmets off to you, Kuya Wong! High five!!!
Btw, while I was browsing on Kuya Wong's facebook account, I saw this as his primary picture: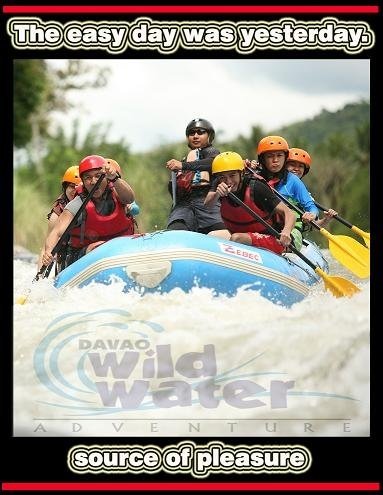 That's us, which I think was taken by Rhonson Ng.
Fee
White Water Rafting Package – P2,000/pax
Inclusions:
Round Trip Transportation from Crocodile Park to the Rafting Area and back
Packed Lunch plus Bottled Water
Use of Rafting Gears & Equipment (Lockers provided)
Activity Guide
Souvenir T-Shirt
Photo CD
Rafting Tips
Wear light and comfortable clothes that dry quickly (Rash guards and board shorts are recommended)
Bring a set of dry clothes that you can store in dry bags in the raft or that you can leave at your destination
Avoid wearing slippers. Wear sandals with strap or aqua shoes instead
Use waterproof sunscreen for protection against the heat of the sun
Leave your valuables such as jewelries, cell phones and camera on an area where it can be safe
Always listen to your guide
Contact Details
For inquiries and reservations you may contact Davao Wildwater Adventure Inc. directly at:
Mobile Nos: (+63 920) 954-6898 [Atoy] / (+63 920) 954-6897 [Poloy] Landline Nos: (+63 82) 301-2020 / (+63 82) 286-1055
E-mail Address: davaowildwater@yahoo.com
Website: http://waterrafting.psdgroupph.com/