It was in May 2008 when I had the chance to visit Bohol for a 4 days / 3 nights stay. Our trip to Bohol was totally unexpected so we didn't have much time to plan the whole trip. A week before our trip, I already started looking for an accommodation in Panglao Island and I was quite surprised of their rates – most of which are really quite expensive.
While I was searching the Internet for a nice place to stay in Panglao Island, I stumbled upon this stylish and very elegant resort – Amorita Resort. Amorita, which means "little love" in Spanish is owned by the 28-year old Ria Hernandez-Cauton. The resort is nestled atop a beach sided cliff which offers spectacular and breathtaking views of the sky and Panglao Island's Alona White Beach. It is quite new since it was built just 2 years ago, I think.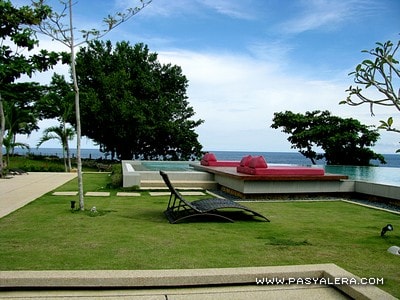 As of August 2009, the price of each room ranges between P5,600 – P11,200 during lean season but these rates could go up to P8,400 – P15,120 during peak season. And since we cannot afford to get a villa, we decided to avail their Deluxe Room with the following inclusions:
*Please note that these inclusions are based on our May 2008 trip.
4 days / 3 nights Deluxe Room Accommodation
Complimentary Breakfast
Roundtrip Airport Transfers
A choice of – Complimentary use of Kayak and Snorkel Equipment OR One (1) hour full body massage
Welcome drink and cold towel upon arrival
Vat and Local Government Taxes
As we arrived at Tagbilaran Airport, the driver was already outside waiting for us. He was holding a placard with the Amorita sign on it and as we approached him, he welcomed us, took our things and assisted us towards the van. The resort was just a 30-45 minute drive from the airport and as we reached the resort, we were then brought to the reception area. The staff of the resort welcomed us, handed us our cold towels and welcome drinks then assisted us to our room.
As we walked toward our room and passed by the tropical gardens around the resort, I was completely stunned by the beauty of the place – good location, great landscaping and architecture, nice and clean surroundings, spectacular views and a whole lot more. This resort was truly a good place to relax and enjoy the beauty of nature. To add to these, our stay at Amorita Resort was really way beyond our expectations.
The next time I go back to Bohol, I will still consider staying on this resort, and hopefully by that time I can now afford stay on one of their villas.
Accommodations
Amorita resort has more than 30 spacious and classy rooms designed with fine furnitures made and arranged by internationally-recognized Filipino craftsmen.
Here are the facilities available on each room:
Ocean View Villas
Garden View Villas
– 120 square meters per villa with its own pocket garden
– Private "plunge pool"
– Veranda / Sundeck
– King-sized bed
– Silhouette and night blinds
– A breakfast nook and daybed
– Overhead ceiling fan
– Wide-screen LCD cable TV
– I-pod docking station
– 120 square meters per villa with its own pocket garden
– Private "plunge pool"
– Veranda / Sundeck
– King-sized bed
– Silhouette and night blinds
– A breakfast nook and daybed
– Overhead ceiling fan
– Wide-screen LCD cable TV
– I-pod docking station
Deluxe Rooms
Sky Rooms
– 35 square meters per room
– 2 queen-sized beds
– Veranda (for ground-level units) or a balcony (for second-level units)
– Cable TV
– 1 queen-sized bed
– Cable TV
Aside from the facilities listed on the table above, all rooms are also equipped with the following:
Hot and cold shower system
Individually-controlled split air-conditioning unit
Coffee and tea service
Mini bar refrigerator
Safety deposit vault
Telephone connection and PABX system
Smoke detectors
Hairdryer
Other Facilities & Amenities
Infinity Swimming Pool
Pool Bar / Juice Bar
Restaurant for all day-dining
Wellness Spa (Under Construction)
Function Room Facilities
WI-FI facilities
Tour and Transportation Assistance
Private Garden for each Villa
Landscaped Grounds and Gardens
Dive Shop
Check in Time: 2:00 pm
Check out Time: 12.00 nn
Staff
The staff of Amorita Resort in Bohol had been very warm and courteous to us all through out our stay. They had been very attentive and were customer-service oriented. Other than that, their representatives in Manila had also been very friendly and kind to us that they attended to all our queries and assisted us through out our booking and reservation.
Saffron Restaurant
Nearby the Amorita Resort's infinity pool is the resort's Saffron Restaurant. The restaurant was named after the magnificent color of the sunset which can be best viewed while one lounges and enjoys the relaxing ambiance in the restaurant.
The breakfast at Saffron Restaurant includes a buffet of drinks, fruits, a sandwich bar with homemade breads, a congee or soup section, and an egg station and a French toast/pancake station. The guests may also choose from a wide selection of Filipino, American and Continental foods. Aside from these, the restaurant also offers sumptuous Boholano foods for their guests.
A complimentary WIFI access is also available within the restaurant.
Getting There
Amorita Resort is situated in Bohol, a province in the Visayas Region of the Philippines. It is accessible by a 30-45 minute travel by land from Tagbilaran airport or by a 35-minute travel from the Bohol sea port.
Escorted transfers are also available at the resort.
Contact Details
For inquiries and reservations you may contact Amorita Resort directly at:
Manila Sales & Reservations Office
Address: Unit 1632 City and Land Mega Plaza, ADB Ave., Ortigas Center, Pasig City
Telephone Nos: (+63 2) 687-3641 / (+63 2) 914-0585 / (+63 2) 914-1728 / (+63 2) 914-1527
Fax No: (+63 2) 914-0584
Mobile Nos: (+63 917) 861-9441 / (+63 922) 859-3403
Email Address: inquiries@amoritaresort.com
Website: http://www.amoritaresort.com/
Bohol Office
Address: Easter A. Lim Drive, Brgy. Tawala, Panglao, Bohol, Philippines 6340
Telephone Nos: (+63 38) 502-9001 to 03
Fax No: (+63 38) 502-9002