As we arrived at Basco Airport, we saw the driver, Kuya Nards, and the receptionist of Batanes Resort, Ate Rose, waiting for us at the arrival lounge holding a placard with Icey's name on it. As we approached them, they welcomed us and have been very friendly and accommodating to us. They even assisted us on the booths where we should sign and pay for our tourist fees. Batanes Resort is just a few minutes drive from Basco Airport and is a government-owned resort nestled atop a hill which offers a great panoramic view of the South China Sea.
Batanes Resort View from top of the hill
Last 2008, the resort comprises six (6) duplex bungalows inspired by the traditional Ivatan stone houses but they have recently renovated and it now has 10 stone houses. Each room is spacious enough to accommodate three (3) persons. The cottages are concrete and are made of stones with wide windows and red-colored roofs. The six original cottages are named after the six municipalities of Batanes namely: Ivana, Uyugan, Mahatao, Basco, Sabtang and Itbayat. Of all the cottages, we recommend the rooms on 'Itbayat' because they offer an unobstructed view of the South China Sea.
We can say that this resort is one of the best choices in the area because of its reasonable rates. It just costs us P1,000.00 per room/per night for 3 pax already. I am just not sure if they have increased their rates now.
Their rooms are nice (nothing fancy), clean and very cozy. All Batanes Resort rooms have the following:
Two Beds (Queen-sized and Single beds)
Airconditioning
Private Toilet and Bath
Hot and Cold Shower
Cable TV
Ceiling Fan
Lamps
Drawer with Bible + Candles inside
Huge Cabinets + Hangers
Intercom
Basic Toilettries (toothpaste in sachet, small soap, shampoo in sachet)
*A standby generator is readily available in case of brown outs. But in our case, they only used the generator in the morning.
The staffs of Batanes Resort are very friendly and accommodating. The service they gave us was superb and was way beyond any expectations that we had. They always make it a point to greet their guests with a smile and simple words such as "Good Morning," "Good Afternoon," "Good Evening," every time they get to see us.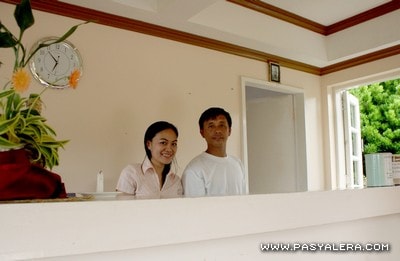 Ate Rose and Kuya Nards of Batanes Resort
The resort is surrounded by green pastures with different varieties of flowers. The reception area is very clean and simple with its nicely designed ceilings and red-tiled floorings. It has comfortable leather sofa for their guests and has some Batanes handicrafts which depict the talents of the Ivatans.
Just behind the reception area is the resort's kitchen and restaurant that serves a hearty meal and native delicacies. The restaurant has two crystal chandeliers hanging on its high ceilings. It has monobloc plastic chairs and tables which are covered with white table cloths during mealtimes. Just outside the restaurant is another covered area with aluminium tables and chairs and terrace overlooking the South China Sea. The guest may opt to eat and stay here if they want. Each viand is already good for 2 to 3 pax and may costs P50.00 for veggies and P100.00 to P200.oo for other meat viands. In case you have your own food preferences, feel free to inform them and they will be very eager to accommodate them for you.
Another tip, there is actually a hill located at the back of the cottages in Batanes Resort, you might want to try climbing up that hill for you to have a nice view of the island.
For tours within Batanes, you may contact Kuya Nards of Batanes Resort at (+63 915) 382-7136.
Kuya Nards
For inquiries and reservations you may contact Batanes Resort directly at:
Cellphone No: (+63 927) 582-9078
Batanes Landline No: (+63 78) 533-3444/ (+63 78) 533-3456
Manila Office No: (+63 2) 927-2393