Accommodations in Coron can get quite expensive so I've decided to search the Internet for a list of affordable accommodations for our 6-day stay last November 2008 in the island. After doing some researches and reading reviews of these accommodations, we have finally decided to make our reservation at Coron Village Lodge.
Coron Village Lodge used to be an old 5-room family house of the Fernandez's which was then converted to a real lodge and now comprises of 22 rooms. It is situated along the main road in the town of Coron and is a 5 to 10-minute walk to the market, to other restaurants and to the wharf.
Facilities
The rooms in Coron Village Lodge are very basic although kept clean and are really quite adequate. The room rates are very reasonable. We were able to get our room for P1,250.00 per night and was given a discount of P50.00 per night. We stayed there for 6 days and 5 nights which cost us P6,000.00 for our whole stay. I was not able to take a peek on the other rooms so I'll just describe the room where we stayed – Room 20. Our room has the following amenities:
Two Beds (Queen-sized and Single beds)
Airconditioning
Private Toilet and Bath
Towels
Hot and Cold Shower
Cable TV
Stand Fan
Lamp
Drawers
Cabinets + Hangers
Private Balcony with Table and Chairs
I found the room clean and simple. The only problems we encountered during our stay are:
There are times where in there is no water in the bathroom
The balcony door lock was broken
Staff
The owner, Bec Fernandez and all of the staff of Coron Village Lodge were very friendly and attentive. They had been very helpful and very keen to assist us in all our needs. I even requested to add another curtain on the other side of our room since there is this small but somewhat long window with no curtain and the staff immediately placed the curtains on it. I would also like to commend their waiter, Kuya Rolan, for supplying us a good quality service. We were very much impressed with the way he attended to us.
Food and Drinks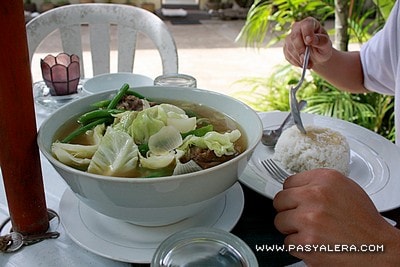 Just beside the main lodge is the Coron Village Café which offers great tasting and mouth watering Filipino dishes with price ranging from P80.00 to P200.00 good for 2 to 3 persons. Here you will get to experience fresh and delicious food served to you with a great big side of friendly smiles and warm hospitality. Their cook, Henry, is very accommodating of different food preferences and requests.
Situated above the restaurant is the Coron Village Bar which offers a good selection of drinks and cocktails. The bar was enhanced with native art designs, attractive woodworks, antique decors and perfect island-life interiors. There are also photos of the legendary Bob Marley and other music legends decorated on the walls of the bar.
Souvenir Shop
Aside from their lodge, café and bar, they also have a souvenir shop called the Coron Village Shop located just across the street and in front of the bar and café. It also offers all sorts of handicrafts and souvenir items such as baskets, hats, bags, candle holders, key holders, accessories, key chains, ref magnets, paperweights, souvenir T-shirts and a lot more at a very reasonable price.
Contact Details
For inquiries and reservations you may contact Bec Fernandez of Coron Village Lodge at:
Cellphone No: (+63 918) 920-1517
Landline No: (+63 2) 805-3414
Fax No: (+63 2) 805-5965
Email Address: darala@pldtdsl.net / becfernandez@coronvillagelodge.com
Website: http://www.coronvillagelodge.com/