After enjoying the breathtaking views of the Banaue Rice Terraces in Ifugao, we then headed to our next destination – Sagada, Mountain Province.
Sagada is located 275 kilometer north of Manila and is adjacent to its provincial capital, Bontoc. And after enduring the four (4) long hours of bumpy and dusty ride from Banaue, our group had finally reached the province of Sagada. Everyone in our group was so tired when we reached the place so after checking in at George Guest House, we all rested for a few minutes, walked around Sagada, ate our dinner and then slept early for tomorrow's activities.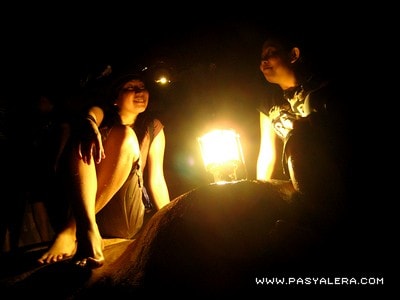 Sagada is well known for its popular activities such as trekking, spelunking, rappelling, hiking and visiting historical sites. It was on our second day, when everybody woke up early and eagerly prepared for one of the highlights of our Sagada trip – "spelunking." Most of us are new to caving and some of our office colleagues were very much afraid of the "Cave Connection," which is a 4 to 5 hour spelunking activity from Lumiang Cave to Sumaging Cave, so our group just decided to take the spelunking activity at Sumaging Cave.
Sumaging Cave is a frequent tourist attraction and is also one of the most popular caves in Sagada. Also known as the "Big Cave," this cave served as the Filipino soldiers' refuge from the Japanese guerrillas during the World War II. It is interconnected to other caves in Sagada such as the Lumiang Cave and one would usually take almost 2 to 3 hours to explore the cave.
As we go inside the cave, each of us tried to hold on tight to the rocks because the steps going down were really steep and slippery. There were also thousands of bats at the cave's opening so you better watch out for dropping bat guano as you go down the cave. In the middle of the trail, we were then asked by our guides to remove our sandals since it is easier to walk barefoot on the steep rocks.
Inside the cave, one will surely be astonished by the cave's natural and splendid beauty. You will see different and awesome rock formations with funny and interesting names, tiny waterfalls, a mini pool and magnificent stalactites and stalagmites as you trail down the cave.
There are also some parts of the trail wherein you will need to get in through tiny holes, pass by high steep inner passages, rappel using rustic ropes and walk or swim in waist deep cold water.
And after almost three (3) hours of spelunking, our group had finally found our way back out and we're all glad and proud to say that we survived Sumaging Cave!
For those tourists who are more adventurous and who would want more adrenalin rush, you may also want to try the "Cave Connection."
Rates
Visitor Registration: P10.00/pax
Guide Fee: Around P250.00 – P350.00/pax
Kerosene Lamp: P50.00
Must Haves
A good licensed guide
Quick drying clothes
Sturdy, comfortable and non-slippery rubber sandals with traction (However, you will be bare footed inside the cave)
Headlamp (Though your guide will also be bringing a kerosene lamp)
A pair of gloves
Plastic bags or Ziplocs (To put in your camera, wallet and mobile phones)
Camera (preferably waterproof) with extra batteries, extra film, extra CF or SD Cards
Small backpack to put on your things
Small towel
On a side trip, we also visited these historical and nice places in Sagada after our spelunking activity at Sumaging Cave.
Lumiang Cave
We passed by this burial cave on our way back to George Guest House. Referred to as the "Small Cave," Lumiang Cave is a sacred burial ground for the ancient Sagadans where the pine wood coffins are stacked on top of the other. The coffins here can be viewed near the cave opening.
Lake Danum
After having our lunch, our group then headed to Lake Danum, a small lake which can be found at the borders of Sagada and its neighboring municipality, Besao. Lake Danum, which literally means "lake water," is four (4) kilometers away from the municipal hall of Sagada and is a great place to have picnic, to relax and to watch the sunset.
The whole experience was really strenuous but it was truly fun and exciting. This was definitely an experience of a lifetime that one shouldn't really miss.
Getting There
From Manila, Sagada is accessible via these routes:
Manila – Baguio City – Sagada Route
From Manila, Victory Liner has daily trips to Baguio and vice versa which leaves these terminals – Caloocan, Pasay, Cubao and Sampaloc every hour. It is a 6 to 8-hour travel for P460.
From Victory Baguio Terminal, take a cab to the Dangwa Bus Station. It is a 10-minute ride for P40. At the bus station, take either a Lizardo or GL Transit bus to Sagada. First bus leaves at 6.30 a.m. while the last bus leaves at 1.00 p.m. It is a 6 to 7-hour travel for P220.
Manila – Banaue – Sagada Route
From Manila, the following air conditioned buses usually have daily trips to Banaue and vice versa:
Dangwa Tranco Company Incorporated
Terminal: 1600 Dimasalang St. Sampaloc, Manila / 832 Aurora Boulevard, Cubao, Quezon City
Tel. No: (+63 2) 731-2879 / (+63 2) 410-1991
Autobus Transport Systems Incorporated
Terminal: 1455 SH Loyola St. corner F. Cayco, Sampaloc, Manila
Tel. No: (+63 2) 493-4111 / (+63 2) 740-7959
Florida Bus Lines
Terminal: Lacson St. Corner Espana (near UST) Manila
Tel. No: (+63 2) 731-5358 / (+63 2) 912-5354 / (+63 2) 743-3809
Trip Schedules: These buses usually leaves Manila at around 10.00 p.m. daily
Fare: Ranges from P450 – P475
Duration: 8 to 9 hours
Upon reaching Banaue, ride a tricycle to Banaue Town Proper for P20. Catch Immanuel Bus Line for the 2-hour travel to Bontoc for P100. From Bontoc, take a 45-minute jeepney ride to Sagada for P35.
Manila – Bontoc – Sagada Route
From Manila, the following buses usually have daily trips to Bontoc and vice versa:
Cable Tours
Terminal: E. Rodriguez Quezon City (Near Trinity College)
Tel No: (+63 74) 602 1068
Cell Nos: (+63 918) 521 6790 / (+63 921) 448 8814
Trip Schedule: 8.00 PM [Manila – Bontoc] / 3.00 PM [Bontoc – Manila]
Kasilen Transport
Cell Nos: (+63 917) 862 9574 / (+63 916) 360 3483
It is a 12-hour travel for P500 – P650. From Bontoc, take a 45-minute jeepney ride to Sagada for P35.