Another popular activity that one shouldn't miss when visiting Sagada is the trek to two of Sagada's most visited and sought after attractions – the Bokong Falls (Small Falls) and Bomod-Ok Falls (Big Falls.)
Our group was supposed to visit these two falls on our third day in Sagada but since we didn't have much time, we decided not to push through with our trek to Bokong Falls and just headed on to the 200-feet tall, Bomod-Ok Falls.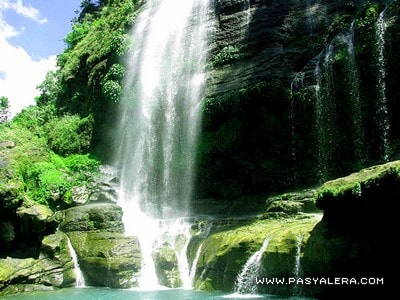 From the town proper, we rented a jeepney that took us to Banga-an, the entry point to the Big Falls. The trek begins near a basketball court in Banga-an, then passing through the villages of Modongo, Banga-an, and Fidelisan. The downhill trek has already been made easier because of the concrete walkways that were built across the maze-like trails of the rice terraces. The whole trek was really long and exhausting, with the sun scorching at times. This, however, was worth all the effort because the views and sceneries of the picturesque rice terraces on your way down were truly stunning and breathtaking.
We were also lucky to have met GMA-7 news reporter, Steve Dailisan, together with his news crew on our way to Bomod-Ok Falls for they were about to feature the Big Falls on 24 Oras' Gimik sa Tag-init portion. And after about an hour and a half of trekking, our group finally reached the huge boulders of rocks that surround the Big Falls. From there, we all had a spectacular view of Bomod-Ok Falls.
Upon arrival, we eagerly dipped into the swimming area and enjoyed the icy cold water of Bomod-Ok Falls. We had to be extra careful though since there were some deeper parts of the water.
After our freezing swim, we all headed back up to Banga-an. Before leaving the place, two of our colleagues were even interviewed by Steve Dailisan for their report. We also witnessed a woman who suffered from a sprained leg and knee who was then carried back to Banga-an by the tour guides in the middle of our trek. Expect the trek to be more tiring and strenuous since most of the trails were uphill.
Btw, here's the video of GMA-7's 24 Oras featuring Sagada's Bomod-Ok Falls:
Getting There
Bomod-Ok Falls is a 20-minute jeepney ride or a 2-hour walk from Poblacion to the drop off point in Banga-an. From there, you will need to trek for about an hour and a half before reaching the falls.
Rates
Jeepney Rental – P600
Registration Fee at Fidelisan – P10/pax
Tour Guide – P600 (for a group of 10 pax or less)
Must Haves
Comfortable and light clothing
Extra clothes
Comfortable shoes/slippers/sandals
Cap, hat or bandana
Shades/sunglasses
Sunblock
Walking stick
Camera (Extra batteries, extra film, extra CF or SD Cards and tripod)
Water, water and lots of water
On another side trip, we also visited these nice and historical places in Sagada:
Kilterpan Viewpoint
Another must-see place in Sagada is the Kiltepan Viewpoint. The place got its name from its three bounding barangays namely Kilong, Tetep-An, and Antadao. The highest point of the place offers a cool temperature and great panoramic view of the rice terraces and mountain ranges within Sagada.
Latang Underground River
Latang Underground River is another pathway to Sumaging Cave which is composed of different formations of rock minerals and ancient corals.
Echo Valley
A memorial cliff where the beautiful views of lime stones and the most visible hanging coffins can be found is the Echo Valley. From St. Mary's Church, you will be passing through a cemetery and trek for a few minutes before reaching the view deck. The place was named as such because of the echo it produces when somebody shouts at a distance.