Months before our trip to the largest city on the island of Mindanao, I had already been searching the Internet for a list of must-see places and attractions in Davao. I stumbled upon Flickr and saw a great number of awesome Davao photos but my attention was caught by those gigantic sculptures of durian and the Philippine eagle.
We decided to look for these gigantic sculptures during our last day in Davao, since our flight bound to Manila was scheduled in the afternoon. One of our colleagues, Mimi, who was from Davao served as our tour guide/photographer for that day and took us to the People's Park.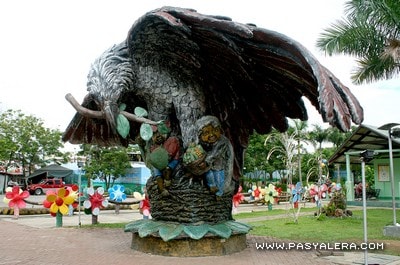 We arrived at the park at around 11.00 a.m. only to find out that it was closed and will be opened at 1.00 p.m. Good thing, the park was just closed for the residents of Davao and is still open for tourists as long as they present an ID indicating that they live outside Davao.
Davao City's four-hectare People's Park which was formerly known as the PTA grounds was opened on December 15, 2007. This P72 million worth park showcases a mini forest, interactive fountains, ponds and waterfalls, a durian dome, a shady and open plaza, a statue of a gigantic Philippine eagle and a fantasy-themed park with large sculptures made by the Mindanaon artist Kublai Millan representing indigenous groups in Southern Mindanao.
We really had a great time strolling around this colorful park since there were few tourists at that time but unfortunately, we did not get to see the whole place because I suddenly had a migraine attack. And after some few shots, we left the place and then headed to Aldevinco to buy some souvenirs. Too bad, I also did not get to see the gigantic durian sculpture because my friend Mimi, did not know where it can be found. The next time I go back to Davao, I promise, I will truly search for that gigantic durian sculpture.
Location
People's Park is situated in the heart of the downtown area and is just in front of Casa Leticia and at the back of Apo View Hotel. The streets alongside it are Jose Camus and J. Palma Gil.
Fee
There is no entrance fee to the park but it is usually full of people during weekends.