Mt. Tapyas is one of the popular destinations and the second highest place in Coron town in the province of Palawan, Philippines. It is one of the mountains in Busuanga and its base is accessible by a 5 to 10-minute walk from the pier and town proper. The mountain stands 210 meters while its cross is more than 2,000 feet above sea level.
The way to Mt. Tapyas is situated just beside a community basketball court where you can see a flight of steps on the side which will lead you to the entrance of the trail. The climb to its the peak will take you less than an hour but may also vary depending on your physical condition.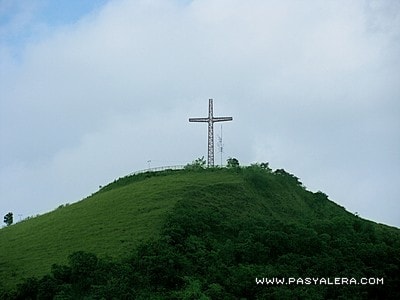 It was on our fifth day when we climbed Mt. Tapyas. The trail to its summit consists of 700+ steps but was safe and comfortable enough since it was paved and concrete. Also, there are handrails along the trail to help you pull yourself up the mountain and there are plenty of shaded rest stops scattered along the trail where tourists may stop and take a rest.
After a long, tiring trek, a huge steel cross greeted us as we reached the peak of Mt. Tapyas around 5.30 p.m., enough to catch the sunset in Coron. There is also a spacious view deck with cemented benches on the summit of the mountain where tourists can see the spectacular and panoramic view of Coron town together with the rest of the Calamianes group of islands.
After enjoying the amazing view from Mt. Tapyas, we left the place at around 6.30 p.m. and began with our trek back to the foot of Mt. Tapyas. It was very dark and the rain started to pour hard as we descend the mountain. We could hardly see our path since there were no lights on all of the lamp posts at that time. Once in a while, we stopped at some shade to keep us from getting wet until we finally reached the foot of the mountain at around 8.00 p.m.
Visiting Time
The advisable visiting time is around 4.00 a.m to 5.00 a.m to catch the breathtaking view of the sunrise in the morning or at around 5.00 p.m. to 6.00 p.m. to capture the stunning view of the sunset in the afternoon. Just avoid going there while the sun is up.
Getting There
Ride a tricycle to the place (P8.00/pax)
Walk to the place
Must Haves
Light Clothing (Shirts and shorts)
Comfortable shoes/slippers/sandals
Cap, hat or bandana
Shades/sunglasses
Sunblock
Flash Lights
Camera (Extra batteries, extra film, extra CF or SD Cards and tripod)
Water, water and lots of water